Post by WalksInSpirit on Mar 7, 2007 18:51:55 GMT -5
The Red Path Chat Room applets use Java to run. If you are having difficulties loading the chat rooms, especially if you use a Windows PC, you may need to clear your computer's Java 2 Runtime Environment's (J2RE) cache. These instructions explain how to clear your Java cache.
Step 1: Locate your Java 2 Runtime Environment in your System Tray
Your system tray is found in the bottom right hand corner of your computer (where the clock is found). If you've recently tried to log into, or have logged into and out of The Red Path Chat Room (and we do recommend you log out), you should see this icon here.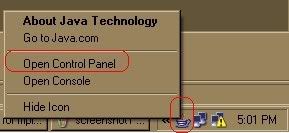 Step 2: Right click on the Java 2 Runtime Environment icon in your System Tray
Once you have located the icon, right click on it, and you will be given the following options


About Java technology

Go to Java.com

Open Control Panel

Open Console

Hide icon

Choose to Open the Control Panel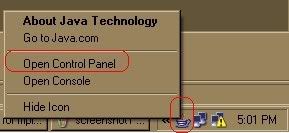 Step 3: In the Java Control Panel, choose to Delete Files (and make sure all three checkboxes are selected)
In the Java 2 Runtime Environment Control Panel, choose to delete files. You may see a pop-up with three checkboxes selected for downloaded files, programs, and settings. Make sure all three checkboxes are selected, and press ok.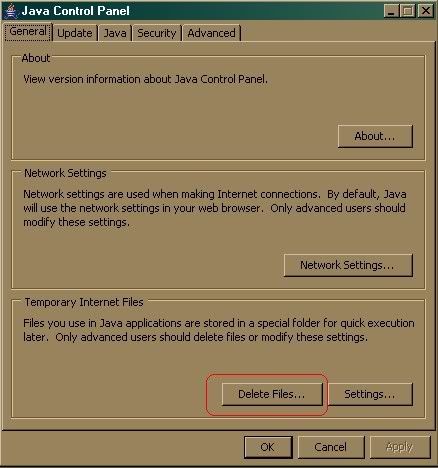 Step 4: Restart your computer to force the refresh of Java
After restarting, any quirky issues you may have noticed should be eliminated.
If you are still having problems, you'll need to uninstall Java by going to Start>> Control Panel>> Add/Remove Programs. When that list comes up in the box, scroll down and find Java. Click on the Remove button. After it uninstalls, you will need to restart your pc. Then, after you have restarted, you will need to go
Here
and find Java Runtime Environment (JRE) 6 in the list on that page. Click on the Download button next to it. You will be taken to another page. Click the "I Accept" button on the page. Then, if you are running Windows, click on the second link under the "Windows Platform - Java(TM) SE Runtime Environment 6" section. The installation should begin. After the installation is complete, restart your pc.
If you continue to have problems after the re-nstallation of Java, please .