Post by Blu on Mar 9, 2007 14:18:30 GMT -5
3/12/64 Excerpt from Femina & Woman's Life article:
LETTER TO TIBERIAS;
Few people are aware, that there is in existence today,
in the Archives in Rome, a description of Christ. It is contained in a report written nearly two thousand years ago,
by a Roman, Publius Lentulus, to his Emperor, Tiberias. It reads:
"There has appeared in Palestine a man who is still living and whose power is extraordinary. He has the title given him of Great Prophet, his disciples call him 'Son of God'. He raises the dead and heals all sorts of diseases.
"He is a tall, well proportioned man, and there is an air of severity in his countenance which at once attracts the love and reverence of those who see him. His hair is the colour of new wine from the roots to the ears, and thence to the shoulders it is curled and falls down to the lowest part of them. Upon the forehead, it parts in two after the manner of Nazarenes.
"His forehead is flat and fair, his face without blemish or defect, and adorned with a graceful expression. His nose and mouth are very well proportioned, his beard is thick and the colour of his hair. His eyes are grey and extremely lively.
"In his reproofs, he is terrible, but in his exhortations and instructions, amiable and courteous. There is something wonderfully charming in this face with a mixture of gravity.
He is never seen to laugh, but has been observed to weep. He is very straight in stature, his hands large and spreading,
his arms are very beautiful.
"He talks little, but with a great quality and is the handsomest man in the world."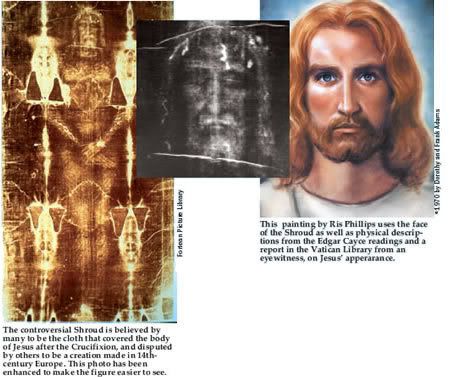 "On Good Friday, tens of thousands of pilgrims from nearly one hundred Christian churches trace Christ's last journey from his trial to Calvary. They carry heavy crosses, and mark the Stations of the Cross, places where Christ stumbled,
and where he was scourged and flogged by soldiers. "
For those people who think Jesus was just a good man, not the Son of God, even the "I AM, that IAM" a claim of being God, I ask this; what good man that you know would do this? What good man would go to this length in total defiance of all worldly authority? I don't know a single man who would.

Yes, there are good people with mental disorders, but clearly this description of HIM was not from his followers, but from a citizen reporting to his leader. He would have surely included that the man was deranged. Then what would you do with this man who made the claims and gave the proof to boot? Hate Him or love him, but do not ignore Him. If He was who He claimed to be and you have doubt or scoff, then challenge Him personally. If He was who He claimed to be, He will get back to you on it. But do not make the mistake of ignoring Him.

Jesus who became The Christ is my personal Savior, my friend, my elder brother, My Holy Father, my ideal. He is still the Light to a waiting world. You my precious child of God were worth dying for. WIS once told a friend of ours, " Alec, if you were the only person on earth Jesus would still have come and died on the cross for you." This is true for each of us, it is true for you. You are a pearl of great worth, find out who you truly are. The Master of masters awaits you.